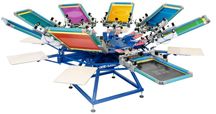 We can't argue, it does look like a carnival ride, but rest assured, this is some very sophisticated equipment!
Lancer Ltd. offers screen printed apparel, posters, signs and an amazing selection of advertising specialty products.
This particular machine is used for multiple-colored shirts, and depending on the size, complexity and application, machines of all sizes, shapes and button-count are available to us for your project.
---
So...how does it work?

This illustration shows the basic set up of a screen print in process. The following is a very simple explanation of a craft that takes training, talent and hard work...don't try this at home!
The image is burned to a positive film, the photo-emulsion is laid down, but through chemical and light processing, the emulsion "disappears" from the image that is going to print. The rest of the emulsion is left, which the ink can't penetrate. Said ink is applied, a squeegee is run over the screen, forcing the ink to the shirt, balloon, notebook (you get the idea), and the logo appears "magically" on the piece. For multiple ink colors, a separate set up like this has to exist. Thus, the need for a "carnival ride"! It allows a shirt to go to each "station" to get the ink it requires, rather than stopping after the red is applied, cleaning and setting up for the blue, realigning the shirt, then doing the same for the green, yellow and white.
How Screen Printing Works for Your Business
Screen printing is more versatile than traditional printing techniques. The surface does not have to be printed under pressure, the way etching or lithography has to, and it doesn't have to be smooth and flat, like paper. Different inks can be used to work with a variety of materials, like cloth, ceramics, wood, paper, glass, metal, and plastic.
T-Shirts

For a relatively small investment, you'll have billboards walking all over town...and across state lines! Brand your company, give away memories of an event, start a new fad with your slogan.

Balloons

Grand Opening Celebrations, Company Picnics, Trade Shows, Decorations for Special Occasions, Fair Booths for children to take away and advertise for you!

Flash Drives

Customers carrying your flash drive around are going to see your logo every time they need to save or transfer a file. This isn't a gift they are going to toss out...they are going to use it, over and over for years!

Yard Signs / A Frames

Put your message OUT THERE! Removable, movable signs that stand up to weather. Available in single, multiple or full color applications. Grab the attention of the traffic that passes your business every day!
Is your imagination waking up a bit now? Think of all the things you can put your name on that people will use multiple times...then fill out the short "contact me" form, and we'll get in touch with you as soon as possible!